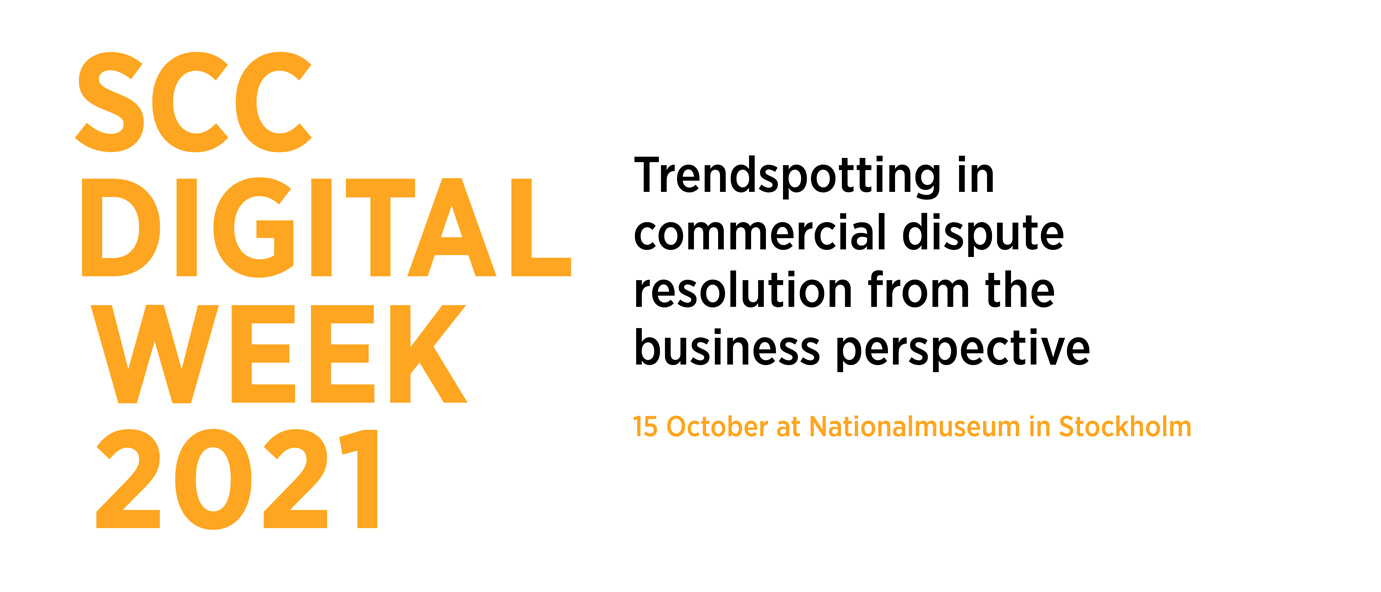 SCC Digital Week 2021
Join us for an extraordinary digital experience!
As the world is not quite ready for large live events, we hereby invite you to the SCC Digital Week on 15 – 21 October.
During the digital week you will be able to join us virtually at the grand Nationalmuseum in the very heart of Stockholm City for a livestreaming event, seminars, networking opportunities and more.
15 October, 18.00 CET
Trendspotting in commercial dispute resolution from the business perspective, live event.
Your registration to the SCC Digital Week admits you to sign in and enter a tailor made event platform with specially developed graphics and content, through which we will be livestreaming a trendspotting session on commercial dispute resolution from the perspective of general counsel of multinational corporations.
A live interview with Kristin Campbell-Wilson, recently appointed Secretary General
Speeches by Oscar Hållén General Counsel at Klarna and Sofia Graflund General Counsel at Northvolt who will share their thoughts and experiences from building inhouse departments for international business
A panel discussion about trends, challenges and experiences in international commercial dispute resolution led by Kristin Campbell-Wilson with Oscar Hållén, Sofia Graflund, Caroline Falconer Senior Legal Counsel at Vattenfall and Jenny Bergendorff Head of Legal at Skanska
A presentation of the SCC Express – a new dispute resolution tool
15 – 21 October
As a SCC Digital Week delegate, you may also enjoy
a virtual visit to the SCC Secretariat
a film about the new dispute resolution tool SCC Express
a peek at the exhibition "Scandinavian Design & USA – People, Encounters and Ideas", at the Nationalmuseum
mingle with members of the SCC Secretariat and colleagues around the world
seminars (more information about dates and time will soon be available)
and more!
The SCC Digital Week event platform will remain open for your convenience during a total of seven days. You will have plenty of time to explore the content and return to attend any of the scheduled seminars led by SCC Secretariat.